Akiseyama Mitsuhiko - 明瀬山 光彦 (born July 18th, 1985) is a Japanese professional sumo wrestler from Kasugai, Aichi. He made his debut in January 2008 and currently wrestles for Kise stable. He reached the makuuchi division in March 2016. His highest rank as of 2021 is maegashira 12.
Mitsuhiko Fukao was born the eldest son of his family; his family owns a building materials shop. Fukao attended Kasugai City Kashiwara Elementary School and was a member of their sumo club, Chukyo Sumo Club. This is where he met the future Kiyoseumi who was one year his senior. They developed a deep bond, and he respected him greatly. In Fukao's 4th and 5th year of elementary school he became elementary school Yokozuna.

Along with Kiyoseumi, Fukao attended the prestigious Saitama Sakae High School and Nihon University where they practiced and trained together. Although Kiyoseumi was his close friends they were also rivals, and in his junior year they faced off in the championship match of the All Japan Sumo Championship where he lost.
After Fukao's university career, he turned professional and joined the Kise stable, which also housed Kiyoseumi. Fukao made his debut exactly one year after Kiyoseumi in January, 2008, debuting with the likes of Kyokutaisei and Homarefuji. He quickly rose up to the makushita division after spending just one tournament (where he won the jonokuchi divison championship) at each of the lower divisions.
Fukao hit his first wall after reaching the upper makushita level and was stuck in the unsalaried Makushita divison for three years before achieving 4-3 record as a makushita 2 which guaranteed a spot in the salaried juryo division. To mark the occasion he changed his shikona from his family name of Fukao to Akiseyama, with the "aki" kanji representing mother, "se" kanji taken from his stable and "yama" taken from his influential high school sumo coach.
Akiseyama posted two winning scores in his first two tournaments in juryo, but after the 2011 match-fixing scandal (which Kiyoseumi was involved in), Akiseyama posted two disastrous losing records which caused him to fall back down to the unsalaried makushita division.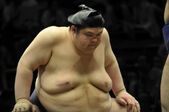 Akiseyama wasn't promoted back until November, 2012 after achieving a 6-1 record at the rank of makushita 5 in the previous tournament. He remained in juryo for another four another tournaments posting one mediocre winning score of 8-7, but then three consecutive losing scores of 7-8 caused him to fall back to the unsalaried makushita division.
However, he would bounce back with a 4-3 record at the rank of makushita 2. He would remain in juryo for the next 7 tournaments, before getting demoted back to makushita. It would also just take one tournament to get reprobated back to juryo. He would repeat the same cycle of 7 tournaments before getting demoted and reprobated back to juryo again. He would remain in the juryo division for 7 straight tournaments where he would achieve four consecutive winning records which would eventually lead to his promotion to the makuuchi division.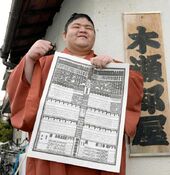 In Akiseyama's first makuuchi tournament, he was ranked at the lowest rank of Maegashira 16. He won his first two matches, but ended up losing his next eight which already guaranteed him demotion to the juryo division. He ended up with a 4-11 record. In the following tournament, Akiseyama was struggling with eye problems and finished with a disastrous 1-14 record which led to immediate demotion from juryo to makushita.
After receiving treatment for his eye problems, Akiseyama was stuck in makushita for two years before gaining promotion to the Juryo division in March, 2018. In his first tournament back Akiseyama produced a strong 11-4 record and was even in the playoff for the championship. The following tournament Akiseyama produced another strong record of 10-5 and was promoted to the top of the juryo division. However, Akiseyama suffered a drought and produced 7 consecutive losing records which led to demotion from the juryo division. He gained promotion to juryo again in March, 2020.
In November 2020, Akiseyama was ranked at the top of juryo and posted a 9-6 record which secured a promotion to the top makuuchi division for the first time since March 2016. In his makuuchi return Akiseyama began the tournament with six straight wins, before suffering five straight losses. Another run of three wins saw him enter Day 15 with a 9–5 record, and the knowledge that he would be awarded the Fighting Spirit prize if he won. Matched against Kagayaki, he was called the winner by the gyoji after pulling off an amiuchi or fisherman's throw, but the judges called for a re-match, which he lost.
Akiseyama is a fan of cooking and enjoys watching and reading the manga series, "Cooking Papa". Akiseyama's hobbies include listening to music, eating, and walking. His favorite foods are cakes and meat.
On May 19th, 2012, around 8:00 pm, Akiseyama was in a taxi with a fellow stablemate. The taxi accidentally collided with a passenger car at an intersection, and Akiseyama suffered mild injuries from the accident.
Unlike most sumo wrestlers, Akiseyama started sumo at his peak weight of 198 kilograms (437 Ib) before slimming down to 169 kilograms (372 Ib) in 2011. As of 2020 Akiseyama weighs around the 180 kg to 190 kg (397 Ib - 418 Ib).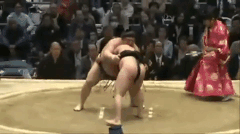 Akiseyama lists his preferred techniques on his Japan Sumo Association profile as tsuki/oshi, pushing and thrusting his opponents rather fighting on the mawashi or belt. However his most common winning kimarite in his career to date is yori-kiri, or force out, which usually involves a mawashi grip.
Total: 420-424/844 (77 basho)
Makuuchi: 13-17/30 (2 basho)
Juryo: 254-301/555 (37 basho)
Makushita: 133-105/238 (34 basho)
Sandanme: 6-1/7 (1 basho)
Jonidan: 7-0/7 (1 basho)
Jonokuchi: 7-0/7 (1 basho)
1 Makushita Championship (July, 2009)
1 Jonokuchi Championship (March, 2008)
Fukao Mitsuhiko (2008.01 - 2010.09)
Akiseyama Mitsuhiko (2010.11 - )
Community content is available under
CC-BY-SA
unless otherwise noted.