Jurassic World: Dominion Dominates Fandom Wikis - The Loop
Play Sound
Chiyonoo Miyohito - 千代ノ皇 王代仁 (born May 29, 1991) is a Japanese professional sumo wrestler from Yoron, Kagoshima. He made his debut in March 2010 and currently wrestles for Kokonoe stable. He reached the makuuchi division in January 2017. His highest rank as of 2022 is maegashira 14.
Early Life

[

]
Motoi is originally from the Yoron Islands in Kagoshima and he attended elementary and junior high school there. He later attended Okinawa Prefectural Chubu Agriculture and Forestry High School in Uruma City which is located in Okinawa Prefecture. He belonged to the school's sumo club and after graduation he joined the Kokonoe stable.
Career

[

]
Early Career

[

]
Motoi made his professional sumo debut in the March 2010 tournament. He achieved 4 consecutive 5-2 winning records through the jonokuchi and jonidan divisions which earned him a promotion to the sandanme division. Upon his promotion to sandanme, Motoi changed his shikona to "Chiyoo".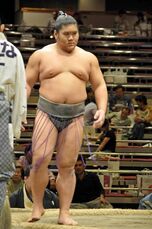 After his first make-koshi or losing record in his sandanme debut, he achieved two consecutive 6-1 records which earned him a promotion to the makushita division. Chiyoo steadily rose up the makushita ranks and reached the upper levels of makushita in mid 2012. Chiyoo faced off against juryo ranked wrestler Nionoumi during the November 2012 tournament and defeated him by hatakikomi (slap-down). However he still finished with a 3-4 make-koshi. He bounced back with two consecutive kachi-koshi which earned him a promotion to the juryo division.
Juryo Career

[

]
Chiyoo made his juryo debut in the May 2013 tournament. He produced a mediocre 7-8 record, however he was at the bottom of juryo at the rank of juryo 14 which led to him being demoted back to the makushita division. He would bounce back with a 4-3 record and earn re-promotion for the September 2013 tournament. He would had a small run with two consecutive Kachi-koshi including a 10-5 double digit kachi-koshi which earned him promotion to the rank of juryo 2. He was at the brink of a makuuchi promotion and even faced off against maegashira Tokushoryu. However he finished with a 5-10 and was demoted back to the mid juryo ranks.
He was promoted to juryo 2 again in the November 2014 tournament, however he pulled out on the eight day after an injury. After that he produced mixed results. On the September 2016 tournament, he produced a 10-5 record and was promoted to juryo 2 again. He achieved another winning record of 8-7, after winning his four last matches. This earned him a promotion to the makuuchi division.
Makuuchi Career

[

]
Chiyoo had an impressive debut and defeated many makuuchi veterans such as Gagamaru, Aoiyama, Myogiryu and many more. However he lost on the lost day to Hokutofuji and finished with a 7-8 record. The following tournament, Chiyoo struggled much more. He was 3-7 on the tenth day and pulled out on the eleventh due to injury. He finished with a 3-8-4 record and was demoted back down to juryo.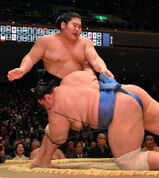 Chiyoo changed his shikona to "Chiyonoo" in the September 2017 tournament. In the January 2018 tournament, Chiyonoo won his first seven matches, but then lost his next six and finished with an 8-7 record. Chiyonoo suffered a disastrous 2-13 record at the rank of Juryo 9 and was demoted down to the unsalaried makushita division. This ended his 30 consecutive tournament streak. On July 2019, Chiyonoo took the makushita yusho with a perfect 7-0 record. After two consecutive 5-2 records, Chiyonoo was re-promoted to juryo for the July 2020 tournament.
In his first tournament back he achieved a 10-5 record and was involved in a rare 6 man playoff. However he lost in the first round to Meisei. Chiyonoo continued his strong run and was promoted to the top of juryo for the November 2020 tournament, however he finished with a losing record of 7-8. Chiyonoo was forced to sit out of the January 2021 after a wrestler in his stable tested positive for COVID-19. He then secured an 8-7 record to go back to the top juryo rank of juryo 1 where he produced an 11-4 record to earn a re-promotion to makuuchi in July 2021. He was demoted back down to juryo in November 2021 after a poor 4-11 showing in September 2021. He withdrew from the January 2022 tournament due to a lumbar disc herniation and was subsequently demoted back down to makushita in March 2022.
Personal Life

[

]
Chiyonoo's hobbies include watching movies and dramas. Some of his favorite movie series include Star Wars and the horror franchise, Halloween.
Chiyonoo's favorite foods are ice scream and macaroni salad. Chiyonoo also stated that even though he was from an island, he has never been a fan of seafood.
Fighting Style

[

]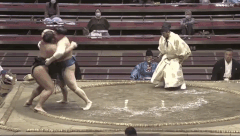 Asasekiryu was a yotsu-sumo (grappling) wrestler, which means he prefers to grip on his opponent's mawashi or belt. His most common winning technique was a straightforward yorikiri or force out. However Chiyonoo is also fond of oshidashi (front push-out) and tsukiotoshi (thrust-down).
Record

[

]
Division Results

[

]
Total: 403-398-40/797 (72 basho)
Makuuchi: 21-35-4/55 (4 basho)
Juryo: 268-285-32/551 (39 basho)
Makushita: 79-64-4/142 (21 basho)
Sandanme: 15-6/21 (3 basho)
Jonidan: 15-6/21 (3 basho)
Jonokuchi: 5-2/7 (1 basho)
Championships

[

]
1 Makushita Championship (July 2019)
Shikona History

[

]
Motoi Miyohito (2010.03 - 2010.11)
Chiyoo Miyohito (2011.01 - 2017.07)
Chiyonoo Miyohito (2017.09 - )
Gallery

[

]
Sources

[

]