Jurassic World: Dominion Dominates Fandom Wikis - The Loop
Play Sound
Ichiyamamoto Daiki - 一山本 大生 (born October 1, 1993) is a Japanese professional sumo wrestler from Iwanai, Hokkaido. He made his debut in January 2017 and currently wrestles for Hanaregoma stable. He reached the makuuchi division in July 2019. His highest rank as of 2022 is maegashira 14.
Early Life

[

]
Yamamoto was born the youngest of three siblings and started sumo wrestling at his second year of primary school after his mother recommended it to him. He continued to wrestle through junior high school and just missed out in the national tournament after losing to Yago in the qualifying tournament. He later attended Hokkaido Ono Agricultural High School and was a member of their sumo club.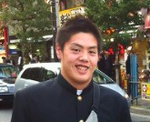 The school's sumo club had a joint partnership with Chuo University's sumo club and after graduating high school he entered Chuo University's Department of Commerce and Trade. In his 4th year, he made it to the top 16 tournament, however he didn't feel comfortable entering professional sumo, because he didn't have a remarkable track record in college. He decided to forgo professional sumo and got a job in the Fukushima Town Office in Hokkaido. He was a civil servant, a job he has always wanted to do since primary school, and was also employed at the town hall. He also taught sumo at the Yokozuna Chiyonoyama & Chiyonofuji Memorial Hall.
In 2016, he met with Mitsuaki Murakami the president of the Chuo University sumo club and he invited him to watch a professional sumo tournament. His passion for sumo reignited and he decided to join professional sumo. However, his entrance examination was conflicted, because he was too old. The age requirement was 23 years for normal sumo wrestlers, and 25 for wrestlers who qualify for makushita tsukedashi. He didn't qualify for makushita tsukedashi and at the time was 23 years and 2 months old; however, he was allowed in. His mother at first didn't like the idea, and preferred him to stay as a civil servant, but he later persuaded his mother.
Career

[

]
Early Career

[

]
Yamamoto joined Nishonoseki stable (now known as Hanaregoma) and debuted in January, 2017, under the ring name, or shikona, Ichiyamamoto. In his jonokuchi debut he won all seven matches and took the yusho. He continued to impress and his jonidan, sandanme, and makushita debuts, he scored a 6-1 record.
In makushita, Ichiyamamoto continued his strong run, and did not suffer a losing record, or make-koshi, until reaching as high as makushita 3 in July, 2018. He faced off and lost against juryo ranked wrestler Chiyonoumi in the tournament and finished with a 3-4 record. The following tournament he produced a disappointing 1-6 record and was demoted all the way down to makushita 26 for the November, 2018, tournament. After his drought, he bounced back with two 4-3 records and a 6-1 record. These records brought him back up to makushita 3 for the May, 2019, tournament. He faced off against juryo wrestlers Tobizaru and Akiseyama and defeated them both. He finished with a 5-2 record and was promoted to juryo for the following tournament.
Juryo Career

[

]
In the press conference for his juryo debut, he indicated that he didn't want to change his shikona. He made his juryo debut in July, 2019, and finished with an impressive 9-6 record. The following tournament he produced another 9-6 record and was promoted to juryo 6 for the November, 2019, tournament. On the first day he faced off against Kyokutaisei and pulled out on the second day of the tournament.
He was demoted from juryo to makushita as a result and continued to sit out. He fell all the way down to makushita 45 and returned in the March, 2020, tournament. After a year in makushita he returned to juryo in March 2021 and produced two consecutive 10-5 records to earn a promotion to makuuchi for the July 2021 tournament.
Makuuchi Career

[

]
He began his top division career with a win over Ishiura with a rare backwards belt throw, or harimanage. Ichiyamamoto had as strong first half, finishing with the record of 7 wins and 2 losses by the end of the 9th day. However, he went on to lose his following five matches and was heading into the final day with a 7-7 record. He defeated Chiyonoo on the final day to finish with a winning record of 8-7. He followed with a poor 4-11 record and was demoted back to juryo in November 2021. Nevertheless, he returned to makuuchi in January 2022 after winning the juryo yusho in November 2021 with a strong 13-2 record.
Ichiyamamoto began the May 2022 tournament with five straight wins, and on Day 10 was the co-leader with Takanosho on eight wins and two losses. However he lost his last five matches to finish with an 8–7 record.
Personal Life

[

]
Ichiyamamoto's hobbies include sleeping.
Fighting Style

[

]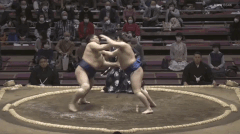 Ichiyamamoto is an oshi-sumo specialist who prefers pushing and thrusting techniques to grabbing the opponent's mawashi. His most common winning kimarite is oshi-dashi, or push out. His fighting style and build has been compared to Abi.
Record

[

]
Division Results

[

]
Total: 173-112-20/284 (32 basho)
Makuuchi: 33-42/75 (5 basho)
Juryo: 51-26-13/76 (6 basho)
Makushita: 70-42-7/112 (17 basho)
Sandanme: 6-1/7 (1 basho)
Jonidan: 6-1/7 (1 basho)
Jonokuchi: 7-0/7 (1 basho)
Championships

[

]
1 Juryo Championship (November 2021)
1 Jonokuchi Championship (March 2017)
Shikona History

[

]
Ichiyamamoto Daiki (2017.01 - )
Gallery

[

]
Sources

[

]