Midorifuji Kazunari - 翠富士 一成 (born August 30th, 1996) is a Japanese professional sumo wrestler from Yaizu, Shizuoka. He made his debut in September 2016 and currently wrestles for Isegahama stable. He reached the makuuchi division in January 2021 and has one special prize. His highest rank as of 2021 is maegashira 10.
Ihara started participating in sumo since elementary school. He later attended Yaizu Municipal Yaizu Junior High School and was a member of their sumo club. He participated in national championships for all of his junior high school years.
He later attended Numazu Gakuen Hiryu Senior High School and was also a member of their sumo club. His most notable moment of his high school sumo career was when he defeated Takanobu Sato (the future Takakeisho) and prevented Sato's high school of Saitama Sakae High School a 4th straight title. After graduating from high school, Ihara enrolled at Kinki University's Department of Business Administration and was also a member of their sumo club. In his first year he won the national tournament for wrestlers below 100 kg, but he left the sumo club in his sophomore year and eventually dropped out of university. He later returned to his hometown, but Isegahama Oyakata (the former 63rd yokozuna Asahifuji) visited his hometown and recruited him for professional sumo.
Ihara made his debut alongside Nishikifuji (who also belonged in his stable) and Uehara. Nishikifuji and Uehara were also members of Kinki University's sumo club and they also dropped out from the school.
Ihara made his professional debut in September 2016 under his family name, however the following tournament he changed his shikona to "Midorifuji". In hi jonokuchi and jonidan debuts, Midorifuji won all seven matches in both tournaments, however he lost against stablemate Nishikifuji in both playoffs and couldn't secure the yusho for both divisions. Nonetheless, Midorifuji only spent one tournament in sandanme and made his makushita debut just five tournaments after his professional debut.
Upon reaching makushita, Midorifuji started to struggle a little more and would post mainly 4-3 and 3-4 records for a year. Midorifuji started to gradually rise through the makushita ranks in November 2018 and reached makushita 4 for the September 2019 tournament. In January 2020, Midorifuji was ranked at makushita 2 and he produced a 5-2 record which secured him a promotion to the salaried juryo division.
Midorifuji was the first wrestler from Shizuoka promoted to juryo since Tochihiryu in 2013. He was the third sekitori from his high school and the second sekitori from Yaizu, Shizuoka (the first was Katayama). In his juryo debut, Midorifuji struggled due to his small stature (he weighed only 100 kg at the time) and he finished with a 7-8 record. The following tournament, Midorifuji won his last two matches and finished with an 8-7 record. He followed this record with an impressive 11-4 record and was promoted to juryo 2 for the November 2020 tournament. In this tournament he produced a 10-5 record and defeated Kyokushuho in a playoff to claim the juryo yusho. This record also guaranteed Midorifuji promotion to the top makuuchi division for the January 2021 tournament.
In his top division debut Midorifuji won the ginosho or Technique prize, only the seventh wrestler to receive this award in his first makuuchi tournament and the first since Tochinohana in May 2000. Five of his nine wins were by the kimarite of katasukashi, or under-shoulder swing down.
Midorifuji made his debut alongside college teammates Nishikifuji and Uehara. They all dropped out of Kinki University during their second year to gain a head start in their sumo career. Midorifuji and Nishikifuji joined the same stable while Uehara joined Musashigawa stable. Midorifuji and Nishikifuji would make the salaried ranks, however, Uehara retired just three tournaments into his sumo career.
Midorifuji was not the first wrestler to wrestle under the shikona of "Midorifuji". The first Midorifuji (wrestled under the shikona from 1997-2002) was also a college graduate from Senshu University and his highest rank was makushita 1. However, the kanji in their names are different. Even though the "midori" (緑) in the first Midorifuji and the "midori" (翠) in the sekitori Midorifuji both mean "green", they are written differently.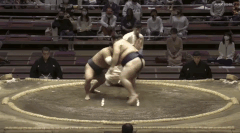 According to the Japan Sumo Association, Midorifuji prefers oshi-sumo which means he mainly employs pushing and thrusting techniques. His favorite technique to use is katasukashi (under-shoulder swing down), followed by oshidashi (push out).
Total: 132-83/215 (26 basho)
Makuuchi: 9-6/15 (1 basho)
Juryo: 36-24/60 (4 basho)
Makushita: 68-51/119 (17 basho)
Sandanme: 5-2/7 (1 basho)
Jonidan: 7-0/7 (1 basho)
Jonokuchi: 7-0/7 (1 basho)
1 Juryo Championship (November 2020)
Special Prizes: Technique Prize (1)
Ihara Kazunari (2016.09 - 2016.11)
Midorifuji Kazunari (2017.01 - )
Community content is available under
CC-BY-SA
unless otherwise noted.