Wakamotoharu Minato - 若元春 港 (born October 5, 1993) is a Japanese professional sumo wrestler from Fukushima, Fukushima Prefecture. He made his debut in November 2011 and currently wrestles for Arashio stable. He reached the makuuchi division in January 2022. His highest rank as of 2022 is maegashira 4.
Early Life

[

]
Onami began practicing sumo due to the fact that his grandfather was an ex-komusubi and his father was also a former professional sumo wrestler. In high school, he participated in the national tournaments for three consecutive years and in his second year he won second place at the Tohoku tournament. He had to evacuate Fukushima due to the 2011 Tohoku earthquake and tsunami and he lodged at the Arashio stable for where his older brother, Wakatakamoto, was already a wrestler. He stayed in the stable for around a month, and after high school graduation, he joined the stable and made his professional debut in November 2011.
Career

[

]
Early Career

[

]
Onami made his debut under the shikona "Araonami", but immediately changed it to "Goshi" in the following tournament. In his first jonokuchi tournament, Goshi took the jonokuchi yusho with a perfect 7-0 record. He followed this with a 5-2 in jonidan which boosted him to sandanme for the May 2012 tournament. He would spend three tournaments in sandanme and earned promotion to makushita in November 2012.
In July 2013, Goshi produced a perfect 7-0 record at the rank of makushita 55 and was promoted to the extremely competitive rank of makushita 7. This rank proved to be too hard for Goshi at the time, and after a series of poor records, Goshi was demoted back down to sandanme in March 2015. He would immediately return to makushita, but would fall back down to sandanme after sitting out of the November 2015 tournament. After producing seven consecutive winning records, he was promoted to makushita 5 in March 2017. After this tournament, he changed his shikona to "Wakamotoharu" due to the arrival of his younger brother, Wakatakakage. He would remain in the top quarter of makushita and in January 2019, he took the makushita yusho with a perfect 7-0 record at the rank of makushita 3. In this tournament, he defeated veteran makuuchi wrestler Takekaze in his last match. As a result he was promoted to juryo in March 2019.
Juryo Career

[

]
Wakamotoharu and Wakatakakage became the 19th pair of brothers to reach the sekitori level. He struggled in his first juryo tournament and produced a 5-10 record. As a result he was demoted back to makushita and would not return back to juryo until three tournaments later. In his return, he duplicated his juryo debut with a 5-10 record and was demoted back down to makushita. He would immediately return and has remained in juryo ever since. Wakamotoharu tested positive for COVID-19 after his brother, Wakatakakage, tested positive for the virus ten days before the tournament. As a result, the whole Araiso stable was forced to sit out of the January 2021 tournament. In November 2021, he posted a strong 11-4 record at the rank of juryo 1 and was promoted to makuuchi for the January 2022 tournament.
Makuuchi Career

[

]
In his first top division tournament, Wakamotoharu finished with a solid 9-6 record and followed with two more 9-6 records in March and May 2022. He was subsequently promoted to a career-best rank of maegashira 4 for the July 2022 tournament.
Personal Life

[

]
Wakamotoharu's favorite oden ingredient is Chikuwabu.
Family

[

]
The three Onami brothers are the grandchildren of former komusubi Wakabayama. They were given their shikona or sumo names by Arashio stable's head coach Oyutaka, after the three sons of Mori Motonari in the well-known Japanese parable "Lesson of the three arrows" – Takamoto, Motoharu, and Takakage. The eldest brother, Wakatakamoto, has a highest rank of makushita 7 and has been in sumo the longest, debuting in November 2009. Wakamotoharu and Wakatakakage are the 19th pair of brothers in sumo to both reach sekitori level. Wakatakakage, the youngest brother, has had by far the quickest rise up the rankings of the three.
Fighting Style

[

]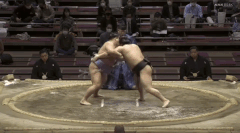 Wakamotoharu is a yotsu-sumo wrestler, preferring grappling techniques to pushing and thrusting. His most common winning kimarite is a straightforward yorikiri, or force out, and he uses a hidari-yotsu grip on the mawashi or belt, with his right hand outside and left hand inside his opponent's arms.
Record

[

]
Division Results

[

]
Total: 305-239-25/544 (64 basho)
Makuuchi: 33-27/60 (4 basho)
Juryo: 82-83-15/165 (12 basho)
Makushita: 137-112-10/249 (37 basho)
Sandanme: 41-15/56 (8 basho)
Jonidan: 5-2/7 (1 basho)
Jonokuchi: 7-0/7 (1 basho)
Championships

[

]
2 Makushita Championships

1st (July 2013)
2nd (January 2019)

1 Jonokuchi Championship (January 2012)
Shikona History

[

]
Araonami Minato (2011.11 - 2011.11)
Goshi Minato (2012.01 - 2017.03)
Wakamotoharu Minato (2017.05 - )
Gallery

[

]
Sources

[

]